About Jade Allen

Luxury clothing in Capitola Village and Aptos
About Jade Allen
Luxury clothing in Capitola Village and Aptos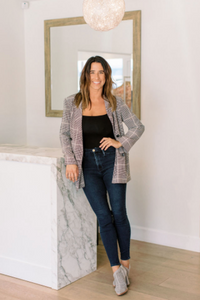 Sonya opened the doors to Jade Allen in December 2017 with a longtime vision of opening a boutique carrying hand selected brands from domestic and international designers. The store embodies a deliberate balance between sophistication and ease. Offering clothing and accessories perfect for everyday wear, beach weather, day to night or special events. Romantic silhouettes, timeless pieces, minimalist decor and opulent fabrics exude to the modern yet classic feel of the space.
With a background in fashion and business, Sonya was first inspired by world travels and styling friends and family for special events. This became an obvious career path after graduating with a degree in product development at FIDM. The owner and staff look forward to providing you a wonderful shopping experience. Please visit our social media pages for current updates, new lines, sales, and store events!
Visit Us
We are a luxury clothing boutique that combines casual elegance and exceptional customer service. Come see our selection at our locations in Capitola Village and Aptos.
Capitola Village
208 Monterey Avenue
Capitola, Ca 95010
(831) 515-7255
Aptos
7588 Soquel Drive
Aptos, Ca 95003
(831) 708-2378
Hours Open 10:30-5:00
Aptos - Closed Mondays
Capitola - Closed Tuesdays